Friends don't let Friends FSBO!
Ok, let's talk about the elephant in the room. For Sale By Owner……. Ok so you are going to try to sell your home without the help of a Real Estate Professional. I get it, you want to save some money or you have been put off by someone in the industry. We have all been there. But neither of these is any GOOD (italics, BOLD, underlined) reason to not seek the help of a real estate professional. The kind of professional who has your back and understands the fiduciary duty to YOU as the client!
Let me explain how this is supposed to work. Until the listing agreement is signed, the agent and broker can and should negotiate a deal (the listing or employment agreement between them as the employee and you as the seller/employer) that is beneficial or acceptable to them/us that rewards us for the knowledge, education, research, marketing, finger on the pulse of the current state of the market, covering costs of MLS dues, association dues, photographers and the list goes on but I'll abbreviate it here. Once that listing agreement is signed then our role changes and your wants, desires, needs and interests are to be placed above all others' wants, needs, desires and interests including those of the broker/agent.
THAT is how it should be. Whether you were or are a buyer, seller, landlord or tenant, once the representation agreement is signed the agent should have your interests at the top of what needs to be addressed. If it happened any other way in the past I apologize for your experience. But as they say in the financial planning world, past performance isn't a guarantee of future returns. In other words, what another person did, doesn't mean that it will happen again.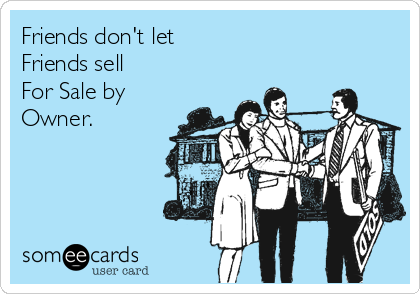 Reasons NOT to go it alone!
The information here is from the 2018 National Association of REALTORS® Profile of Home Buyers and Sellers. Like most data it isn't able to be analyzed in real time.
For Sale By Owner (FSBO) Statistics
FSBOs accounted for 7% of home sales in 2017. The typical FSBO home sold for $200,000 compared to $265,500 for agent-assisted home sales.
FSBO methods used to market home:

Yard sign: 22%
Friends, relatives, or neighbors: 18%
Online classified advertisements: 6%
Open house: 10%
For-sale-by-owner websites: 5%
Social networking websites (e.g. Facebook, Twitter, etc.): 12%
Multiple Listing Service (MLS) website: 4%
Print newspaper advertisement: 2%
Direct mail (flyers, postcards, etc.): 2%
Video: 1%
None: Did not actively market home: 49%

Most difficult tasks for FSBO sellers:

Getting the right price: 17%
Understanding and performing paperwork: 12%
Selling within the planned length of time: 5%
Preparing/fixing up home for sale: 8%
Having enough time to devote to all aspects of the sale: 3%
Speaking from personal experience here……. I looked up a few FSBOs today online (11/6/19) and actually took the time to drive by 1. It had been listed by another agent but the listing had expired on 9/12/19. The agent had the house listed at $259,000, and actually the client decides the price during the process but we give you our best advice as to what it should be listed for, which was just slightly above the range a Comparative Market Analysis I ran on the property suggested. However the owner had the property listed on a FSBO site at $255,000 but slashed it to $224,000 and had NO YARD SIGN when I drove by. So post negotiations, repairs, etc. I'm guessing that the $224,000 is going to wind up a lot closer to the $200,000 listed above driving home the discrepancy in price from the example $265 vs $200.
For reference ROUGH figures on the commission incurred by the seller would be $15,900 giving the SELLER an EXTRA $50,000 in their pocket. OH and that $15,900 doesn't go to just the listing agent. That is broken up between the listing broker, listing agent, buyer's broker and buyer's agent. On top of that a lot of the aforementioned fees (photography, MLS dues so that the property can be advertised etc.) come out of that commission. All stuff that the FSBO owner/seller has to pay out of his pocket if they so chose or even can utilize those services.
The cost of not using a professional agent is huge. Of course there are other expenses not accounted for in the example here but those are expenses incurred whether a real estate professional is used or not.