Burleson Texas Real Estate is our area of expertise as residents of the area. Are you looking to buy or sell your real estate in the Burleson area? We can help you with your real estate transaction whether it is a residential home, land or commercial property.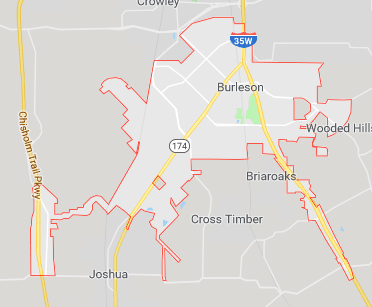 Buying Burleson Realty
When you are looking to buy Burleson, Texas real estate, look no further. We list all of the local properties in the MLS here on this website not just our own listings.
Selling Burleson Residential Property, Commercial Real Estate or Land
When you list with us, we share your listing through the MLS so that you reach as many potential buyers as possible! We also are offering free aerial (drone) photos of your property through Dec. 31st, 2020! Aerial photos will help you stand out from the crowd and give people a unique perspective on your property!
Local Burleson, Tx. Information
Burleson, Texas is a city just South of Fort Worth, Tx. with a population of approximately 44,000 as of Jan. 1st, 2017. Burleson is a growing community with all the comforts of the big city with national chain restaurants and stores. While it has the big ones, it still has that small town feel which is bolstered by the small "mom and pop" shops. Be sure to stroll through the Old Town area and check out all the locally owned small businesses.

For more info about Burleson visit the city's website: https://www.burlesontx.com
You can find information on areas where you would like to buy properties on our Useful Links page.